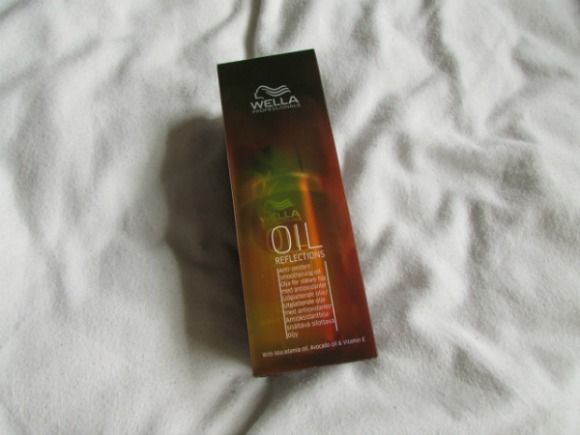 I have always been a bit dubious about using oils on my hair as my hair is quite oily anyway and can become greasy very quickly with too much product. My mum is a hairdresser and when I was moaning to her about how dry the ends of my hair was and that it was taking ages to grow, she suggested trying an oil. As she works in a salon she has tried and tested a lot of the latest hair products. She has remained loyal to Wella throughout her career and so, naturally, suggested I try this oil from Wella. She ordered it for me so I paid £7.50 for it (which is pretty good compared to others). It comes in quite a large bottle and has a pump which I find really useful.
Wella Oil Reflections contains macadamia seed oil, avocado oil and vitamin E which is a natural anti-oxidant for hair. I use 2 pumps as my hair is long and thick, and then just run the oil through the mid lengths and ends with my hands after washing my hair. I wouldn't dare use oil on the roots of my hair as my hair is very naturally greasy and oily anyway and I know that this product would just make that even worse. Then I either leave my hair to dry naturally (I'm lazy and drying my hair takes an absolute age!) or if I'm going out somewhere and need dry hair, I'll blow dry it. I noticed the difference in my hair the first time I used this oil. The results are so much better than what I had anticipated. Firstly, the smell is beautiful. Its quite a nutty scent but it smells very luxurious. Before using this product my hair was very dry on the ends and mid lengths, but now they are much softer and don't feel so coarse. After using this for a couple of weeks, I definitely think it has helped improve the condition of my hair. This is a product I would absolutely recommend, even if you're someone who suffers with greasy hair. This is the first oil I have used so unfortunately don't have anything to compare it with, but I have used Argon oil based cream on my hair but that didn't really have an effect, no the extent of this product.
Has anyone else tried Wella Oil Reflections? Can anyone suggest any other oils?